MobileCause is online and event fundraising software that helps nonprofits raise more money and engage their donors.
I worked at MobileCause located in Los Angeles, CA as an Art Director/Senior Designer. Part of the marketing team, I was initially tasked with reviving the current brand to better attract B2B prospects. Wearing multiple hats, I had my hands in many projects whether it was making a video or creating a new webpage. My main focus was to create lead generating content from start to finish. Here is a look at some of my favorite work from MobileCause.
As a one-woman production team, I created everything from scripts and storyboards to filming and editing. I created a variety of videos including a company overview video, a 4 -min product tour, short product snippets for social media and more.
Staff #Unselfie Giving Tuesday 2018
00:56
4 Minute Product Tour of the MobileCause Platform
04:00
MobileCause: Who We Are
02:19
Wow! I am extremely impressed by the new MobileCause technology and would like to schedule a
time and date for someone to speak with our Vice President and others regarding priorities for our fundraising campaigns. Please get in touch with me as soon as possible. Thank you.
- A comment made by a prospect after watching the 4-min product tour
eBooks/Templates/Workbooks
I also ran all of the organic and paid social media channels (Instagram, Facebook, Twitter, LinkedIn, and Pinterest) for MobileCause. I loved to create multiple ways to showcase the product and connect with the audience. On a daily, I would monitor post/ad performance, interact with prospects and clients, and share fun photographs I took around the office. *Fun note, I took the Pinterest page from 193 monthly viewers to 62.1K monthly viewers.
Instagram - Resource Share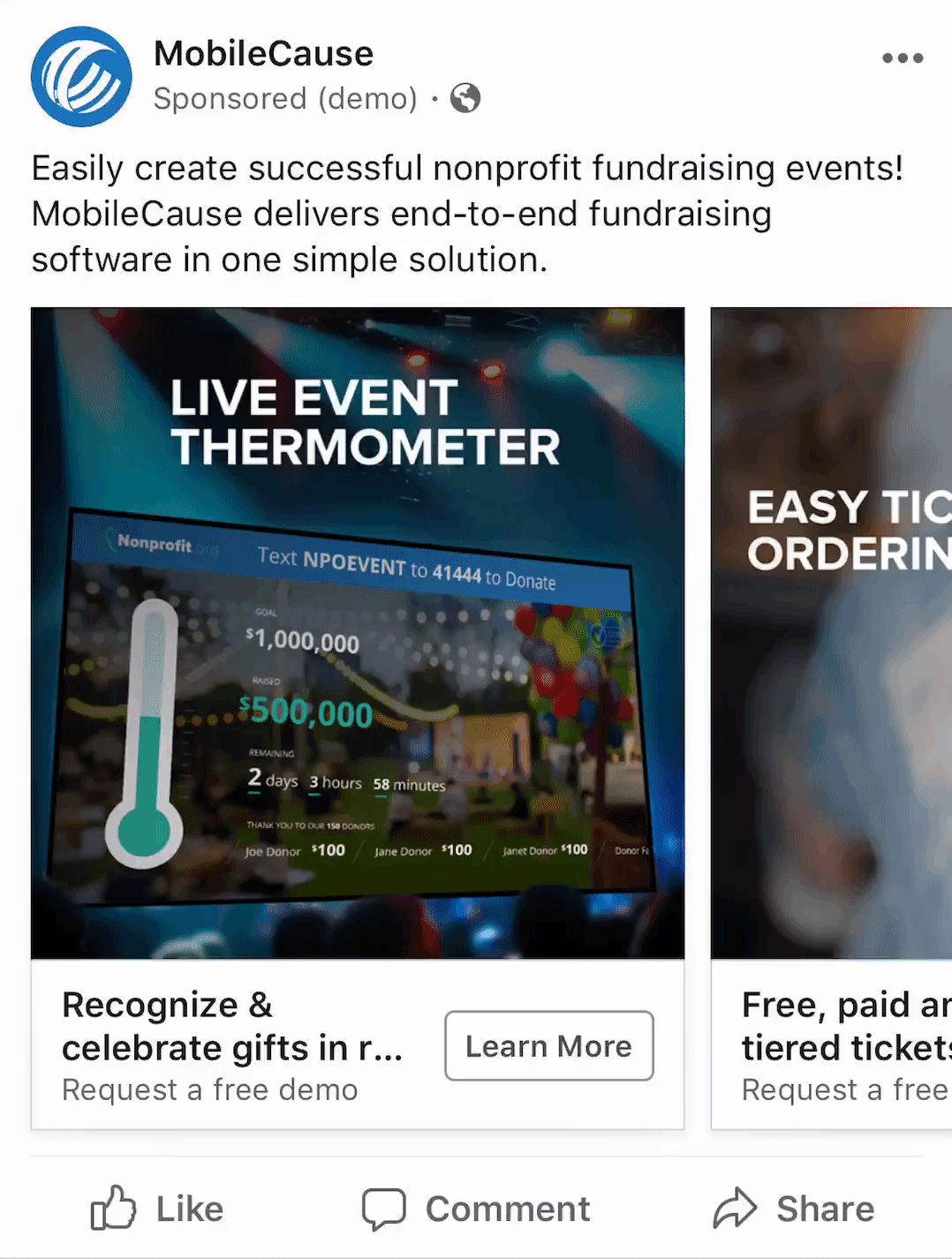 Beyond the above, I also worked often with the development team at MobileCause on product improvements and innovations.
One of those projects included helping the team redesign the Live Event Thermometer to a more modern and sophisticated aesthetic.
Beside just updating the look of the thermometer, I partnered with Creative Director, Jenn Hergert to conceptualize a whole event experience that would create a WOW factor for donors at nonprofit events.
We wanted to design an exciting way nonprofits can show donors their gratitude right at their event and make it exciting and encouraging for everyone to give. This is a short overview/promo video I created to showcase the new features. The video was also promoted via social media, email marketing and on the website.
I also created this short video in After Effects for developers to reference each screen animation and the experience we were looking to create. It includes 2 different versions of each screen, from the welcome screen, to text-to-donate instructions, goal achievements and more.
If you would like to see more work or know more about the projects, feel free to contact me.